PATENTED GERMAN FIBRE TECHNOLOGY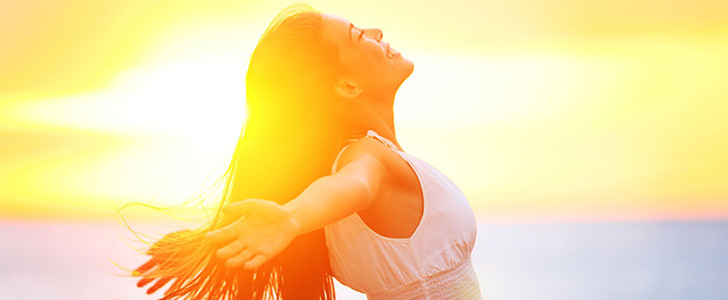 Botanic Fiber
Cell Solution® Skincare fibers are natural cellulosic manmade fibers. The main raw material is wood pulp from non-endangered trees, and the additive parafin is refined plant oil.
Functionality
Textiles with Cell Solution® Skincare fibers are lyocell fibers with integrated natural oils and Vitamin E. Cell Solution® Skincare implies a continuous skin care by the large-scale transfer of Vitamin E from the textile to the human skin. Vitamin E is well capable of penetrating and being absorbed through the skin. For the first time not only face and hands, but the whole body surface is treated. By embedding a Vitamin E depot into the matrix structure of Cell Solution® Skincare, the release of Vitamin E turns into a lifelong effect.
Detoxification of free radicals
Anti-inflammatory
Repair and regeneration of human skin
Regulation of the human skin's moisture balance by a long lasting Vitamin E release
Independent verification
Vitamin E
Cell Solution® Skincare fiber Contains > 6 % dl-alpha Tocopherol (Vitamin E). Vitamin E is considered an antioxidant superstar. It is one of the most wellknown and researched antioxidants, both when taken orally and when used in skin care products.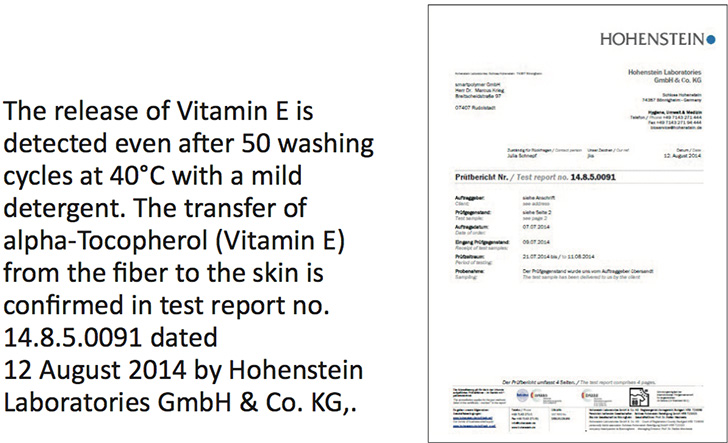 Moisture control
The structure of the cellulosic lyocell fiber results in an optimal body climate because of the fiber's excellent moisture absorbation. Synthetic fibers do not absorb any moisture.
Additional features
Studies have shown that vitamin E reduces UV-induced erythema, edema, sunburn cell formation, and lipid peroxidation. For years, vitamins have been recognized as extremely valuable ingredients in all kinds of cosmetics. Cell Solution® Skincare is a textile with embedded Vitamin E.
Cell Solution® Skincare fibers can be easily processed in to textiles and have consistent dyeability when following the recommended processing/finishing method.
Hohenstein Institute: The transfer Vitamin E from the fiber to the skin is confirmed in test report no. 14.8.5.0091 dated 12 August 2014 by Hohenstein Laboratories GmbH & Co. KG.
Jena University Hospital, Clinic of Dermatology. Oekotex certification.
Range of application
Sports- & fitness wear
Underwear
Nightwear
Bedlinen
Gloves
Socks
Medical articles
Cosmetic pads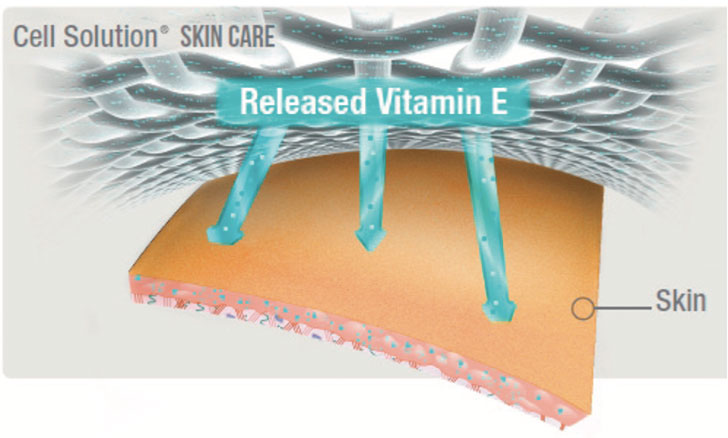 Cell Solution® SKIN CARE – 2,3 dtex, 38 mm
Data sheet
Cellulose fibre with Vitamin E, embedded in parafin, produced according the Lyocell – process
Fibre composition in conditioned state (given in % by weight):
Cellulose
>61 %
DL-all-rac-a-Tocopherol (Vitamin E)
> 6 %
Stabilized paraffin
app. 16 %
Organically modified mineral (layered silicate)
8,5 – 9,4 %
Finisher content
<0,5 %
Moisture
<10 %
Titre
dtex
2,3 ± 10%
Tenacity, conditioned
cN/tex
>20
Tenacity, wet
cN/tex
>17
Elongation, conditioned
%
12 – 15
Elongation, wet
%
14 – 15
Loop tenacity
cN/tex
6 – 8
Wet modulus
cN/tex
±110
Whiteness
17 – 30
Staple length
mm
38 ±10%
Melting point (peak)
30°C/85°F
Thermal decomposition
>175°C/350°F
Ignition point
>200°C/390°F
Due to the large amount of n-paraffin in the fiber, longer exposure of the product in dry state to temperatures above 100°C/210°F has to be avoided or will result in vaporizing of paraffin.